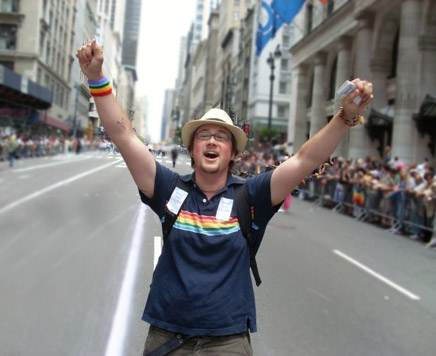 justin adkins is a speaker, life-coach and activist living in Williamstown, MA. He works at Williams College as the Assistant Director of the Davis Center.  His work focuses on an intersectional approach to gender, sexuality, and activism.  He coordinates intersectional outcome-based programing, advises students and advocates for LGBTQ-inclusive policies on campus and beyond.
justin is a regular speaker at high schools and colleges. His talks focus on bullying and LGBTQ terminology and his trainings are founded in queer feminist theory.
justin speaks about issues of the heart and how identity politics often don't mirror reality.  justin has over 15 years of experience in life coaching, leadership and social justice based education in educational, religious, and not-for-profit organizations. He has led multicultural queer social justice based trainings in a variety of settings including universities, high schools and middle and elementary schools, social service agencies, churches, and health care organizations.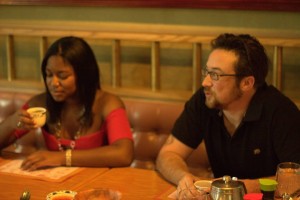 Firmly grounded in social justice theory and the feminist belief that the personal is political, he challenges people to rethink the boxes in which they put themselves and others.
justin has been speaking in public since he was in sunday school.  After preaching for years, he now uses his charming disposition and natural sense of humour to speak about identity and  social justice.
justin references his influences, including: Emma Goldman, Assata Shakur, Judith Butler, Noah Levine, Angela Davis, Virginia Woolf, Amy Carmichael, Jesus, Buddha, and Subcomandante Marcos, on a regular basis in hopes to inspire others to read their works.
In 1997 justin was a teacher for a leadership training program in Harare, Zimbabwe. In 1998 he justin helped co-found a skateboard park for low income youth in Poway, CA. In 2000 he moved to Texas to co-found a wilderness training experience for 18-24 year olds in Lindale, TX. 2001-2003 justin served as director of recruiting for a large non-profit organization in Lindale, TX with 1,500 full-time and 1,500 short-term volunteer staff.
justin was part of the steering committee for New England's first-ever Transgender Pride March and Rally in June 2008, which was attended by over a thousand people in Northampton, Massachusetts.
justin currently serves on the board of Willinet public access TV station in Williamstown, MA. He served for 6 years on the board of the Consortium of Higher Education Lesbian Gay Bisexual Transgender Resource Professionals.  He has also served on the advisory boards of the Berkshire Stonewall Community Coalition, the Jim Collins Foundation and Bennington Pride.
A student of the Buddhist teacher Noah Levine, justin regularly facilitates mindfulness meditation workshops. justin completed mindfulness facilitation training with Noah Levine at Against the Stream Buddhist Meditation Society in 2011.
justin studied anarchy, graffiti, and management of information systems at Marlboro College, finally, receiving his B.S. in 2008.  You can hear about his non-traditional education here in his graduation speech video.
In 2013 he returned to school at Marlboro Graduate School working on his MS in Management of Mission Driven Organizations.
On October 1, 2011 justin was arrested on the Brooklyn Bridge while protesting corporate greed with Occupy Wall Street.  The treatment he encountered while detained by the NYPD was covered by The Advocate, Bilerico, Autostraddle, and Huffington Post.  You can read his original statement here.
On January, 19 2012 justin started the website Hot Trans Guys in response to to Oddee's "10 Handsome Men (Who Were Born Female)" published January 18, 2012.
In 2013, justin started the website Trans* Jock.  Trans* Jock is a community space for trans* athletes.  It has forums for trans* people to discuss workouts and nutrition.
Photos: