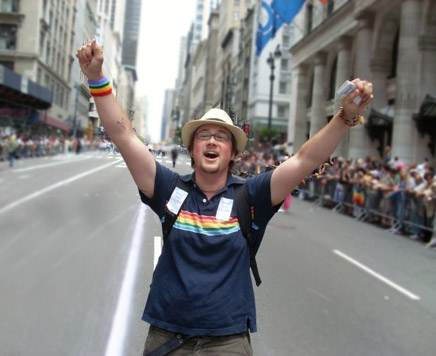 justin adkins is a speaker, consultant, and life-coach living in Williamstown, MA. He works at Williams College as the Assistant Director of the Davis Center.
justin is a visiting professor at Marlboro College Spring 2016. His course, "Standing Up for Racial Justice", is cross-listed for both undergraduate and graduate students.
His work focuses on an intersectional approach to identity development.  He coordinates intersectional outcome-based programing, advises young adults and advocates for inclusive policies on campus and beyond.
justin speaks about issues of the heart and how identity politics often don't mirror reality.  justin has over 15 years of experience in life coaching, leadership and social justice based education in not-for-profit, educational, and religious organizations. He has led multicultural queer social justice based trainings in a variety of settings including universities, high schools and middle and elementary schools, social service agencies, churches, and health care organizations.
justin is a regular speaker at conferences, high schools and colleges. His talks focus on bullying and LGBTQ terminology and his trainings are founded in queer feminist theory.
In 2015, justin and his lawyer Andrea J. Ritchie made history when U.S. District Judge Jed Rakoff found that transgender people qualified as a "quasi-suspect class" entitled to a "more exacting standard of judicial review" for allegations of discrimination because of a history of persecution. This is the same category that the Second Circuit assigned to gay people in the marriage-equality case of Windsor v. United States, Rakoff noted. In Courthouse News lawyer Andrea J. Ritchie said  "This is a significant victory – requiring heightened scrutiny of discrimination against transgender people in the context of police interactions is particularly significant given the pervasive harassment, profiling, discrimination, violence, and unsafe placement transgender people experience at the hands of police based on gender identity and expression,"
In 2015 justin's piece "Wonder" was published as part of the award winning anthology, Recognize: The Voices of Bisexual Men, a collection of short fiction, poetry, creative nonfiction, personal narratives, critical essays and visual art produced by 61 cisgender and transgender bisexual, pansexual, polysexual and fluid men from the United States, Canada, Chile, India, Spain, Sweden and the United Kingdom.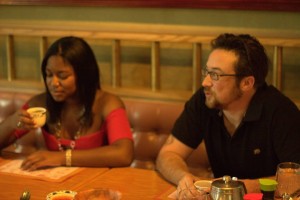 In 2013 justin was featured (with a few minute long cartoon about his experience of arrest at Occupy Wall Street) in the film Just Gender, directed by George Zuber and narrated by Emmy award-winner Bebe Neuwirth.
In 2015 justin launched the website Ask a White Person. He launched Ask a White Person when he heard yet another person of color say, "If another white person asks me another stupid question… White people, educate your people."
Firmly grounded in social justice theory and the feminist belief that the personal is political, he challenges people to rethink the boxes in which they put themselves and others.
justin has been speaking in public since he was in sunday school.  After preaching for years, he now uses his charming disposition and natural sense of humour to speak about identity and  social justice.
justin references his influences, including: Emma Goldman, Assata Shakur, Ella Baker, Noah Levine, Angela Davis, Virginia Woolf, Amy Carmichael, Jesus, Buddha, and Subcomandante Galeano (aka Subcomandante Marcos), on a regular basis in hopes to inspire others to read their works.
In 1997 justin was a teacher for a leadership training program in Harare, Zimbabwe. In 1998 he justin helped co-found a skateboard park for low income youth in Poway, CA. In 2000 he moved to Texas to co-found a wilderness training experience for 18-24 year olds in Lindale, TX. 2001-2003 justin served as director of recruiting for a large non-profit organization in Lindale, TX with 1,500 full-time and 1,500 short-term volunteer staff.
justin was part of the steering committee for New England's first-ever Transgender Pride March and Rally in June 2008, which was attended by over a thousand people in Northampton, Massachusetts.
justin has served on the boards of: Willinet public access TV station in Williamstown, MA., Consortium of Higher Education Lesbian Gay Bisexual Transgender Resource Professionals, Berkshire Stonewall Community Coalition, the Queer Community Project and Bennington Pride.
A student of the Buddhist teacher Noah Levine, justin regularly facilitates mindfulness meditation workshops. justin completed mindfulness facilitation training with Noah Levine at Against the Stream Buddhist Meditation Society in 2011.
justin studied anarchy, graffiti, and management of information systems at Marlboro College, finally, receiving his B.S. in 2008.  You can hear about his non-traditional education here in his graduation speech video.
In 2015 justin finished his MS in Management of Mission Driven Organizations, with a focus on non-profit organizing at Marlboro Graduate School.
On October 1, 2011 justin was arrested on the Brooklyn Bridge while protesting corporate greed with Occupy Wall Street.  The treatment he encountered while detained by the NYPD was covered by The Advocate, Bilerico, Autostraddle, and Huffington Post.  You can read his original statement here.
On January, 19 2012 justin started the website Hot Trans Guys in response to to Oddee's "10 Handsome Men (Who Were Born Female)" published January 18, 2012.
Photos: