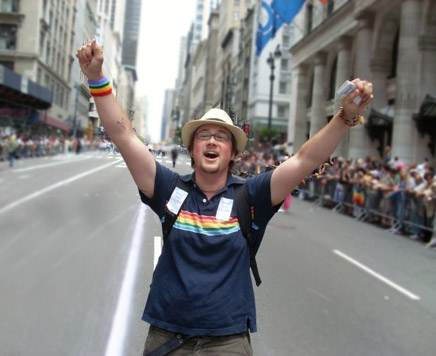 justin adkins is a trans activist living in Williamstown, MA. He works at Williams College as the Assistant Director of the Davis Center (Williams center for social justice and identity).  His work focuses on Gender, Sexuality, and Activism.  He coordinates LGBTQ programing, advises students and advocates for LGBTQ-inclusive policies on campus and beyond.
justin is a regular speaker at high schools and colleges. His talks focus on bullying and LGBTQ terminology and his trainings are founded in radical queer feminist theory. justin is passionate about anti-politics and community organizing, especially in rural New England.
On October 1, 2011 justin was arrested on the Brooklyn Bridge while protesting corporate greed with Occupy Wall Street.  The treatment he encountered while detained by the NYPD was covered by The Advocate, Bilerico, Autostraddle, and Huffington Post.  You can read his original statement here.
On January, 19 2012 justin started the website Hot Trans Guys in response to to Oddee's "10 Handsome Men (Who Were Born Female)" published January 18, 2012.
justin was part of the steering committee for New England's first-ever Transgender Pride March and Rally in June 2008, which was attended by a thousand people in Northampton, Massachusetts. He serves as the trans/genderqueer chair on the board of the Consortium of Higher Education Lesbian Gay Bisexual Transgender Resource Professionals.  He is also on the advisory boards of the Berkshire Stonewall Community Coalition, the Jim Collins Foundation and Bennington Pride. A student of the Buddhist teacher Noah Levine, justin facilitates meditation workshops and a weekly meditation group in Williamstown.
justin is currently working on a book about his life.
justin studied anarchy, graffiti, and management of information systems at Marlboro College, finally, receiving his B.S. in 2008.  You can hear about his non-traditional education here in his graduation speech video here.
In his spare time justin is a website developer building small business and non-profit websites with Brainspiral Technologies.