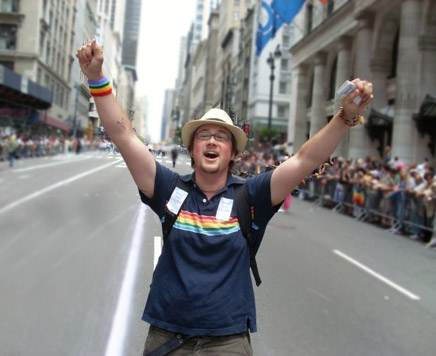 justin adkins is an educator, consultant, and life-coach living in Williamstown, MA. He worked in higher education for 14 years, most recently as Associate VP for Student Affairs at The College of Wooster (2020-2021) Previously justin was Associate Dean of Students in charge of conduct and Director of the Inclusion, Diversity, Equity, Access, Social Justice (IDEAS) Center at Allegheny College (2016-2020) and former Interim Director of The Davis Center at Williams College (2007-2016).
In 2021, justin and his life partner Rebecca, moved back to Williamstown, MA to focus on consulting work so that he could bring his learning and energy to various schools and organizations.
His work focuses on an intersectional and restorative approach to education and identity development. He coordinates intersectional outcome-based programming, advises young adults, and advocates for inclusive policies on campus and beyond. He is known in higher education for his integration of restorative practices in the traditional conduct model code. He also co-chaired a 2-year retention project at Allegheny College and can assist in your planning for holistic retention of historically and currently underrepresented populations.
justin taught as a visiting professor at Marlboro College and Allegheny College. His courses included, "Assata: In her own words" an undergraduate course in Black Studies at Allegheny College about Assata Shakur, and "Standing Up for Racial Justice", a cross-listed Sociology course for both undergraduate and graduate students at Marlboro College.
justin has over 20 years of experience in life coaching, leadership, and social justice based education in higher education, not-for-profit, and religious organizations. He has led multicultural queer social justice based training in a variety of settings including universities, high schools, middle and elementary schools, social service agencies, churches, and healthcare organizations.
justin is a regular speaker at conferences, high schools, and colleges. His talks focus on bullying and LGBTQ terminology and his workshops are founded in queer feminist theory.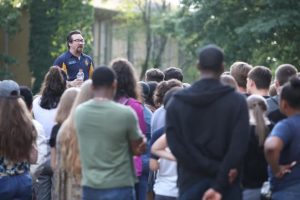 In 2015, justin and his lawyer Andrea J. Ritchie made history when U.S. District Judge Jed Rakoff found that transgender people qualified as a "quasi-suspect class" entitled to a "more exacting standard of judicial review" for allegations of discrimination because of a history of persecution. This is the same category that the Second Circuit assigned to gay people in the marriage-equality case of Windsor v. United States, Rakoff noted. In Courthouse News lawyer Andrea J. Ritchie said  "This is a significant victory – requiring heightened scrutiny of discrimination against transgender people in the context of police interactions is particularly significant given the pervasive harassment, profiling, discrimination, violence, and unsafe placement transgender people experience at the hands of police based on gender identity and expression,"
In 2019 justin published a piece in the edited volume Transcending: Trans Buddhist Voices by North Atlantic Books. Transcending is the first anthology of its kind to give voice to the experiences of transgender, genderqueer, and non-binary Buddhists. Over 30 contributors from both the Mahayana and Theravada traditions are gathered together in this book to present a vision for a trans Buddhist sangha in the 21st century. justin's piece, "Right now… it's like this" tracks his physical as well as spiritual journey. He explores how transition and Buddhist practice are similar, stating that both require that you live in the present moment.
In 2015 justin's piece "Wonder" was published as part of the award-winning anthology, Recognize: The Voices of Bisexual Men, a collection of short fiction, poetry, creative nonfiction, personal narratives, critical essays and visual art produced by 61 cisgender and transgender bisexual, pansexual, polysexual and fluid men from the United States, Canada, Chile, India, Spain, Sweden, and the United Kingdom.
In 2013 justin was featured (with a short cartoon about his experience of arrest at Occupy Wall Street) in the film Just Gender, directed by George Zuber and narrated by Emmy Award-winner Bebe Neuwirth.
Firmly grounded in social justice theory and the feminist belief that the personal is political, he challenges people to rethink the boxes in which they put themselves and others.
justin has been speaking in public since he was in church sunday school.  After preaching for years, he now uses his charming disposition and natural sense of humor to speak about identity and social justice.
justin references his influences, including: Ella Baker, Angela Davis, Virginia Woolf, Emma Goldman, Assata Shakur, Amy Carmichael, Jesus, Buddha, and Subcomandante Galeano (aka Subcomandante Marcos), on a regular basis in hopes to inspire others to read their works.
In 1997 justin was a teacher for a leadership training program in Harare, Zimbabwe. In 1998 he justin helped co-found a skateboard park for low-income youth in Poway, CA. In 2000 he moved to Texas to co-found a wilderness training experience for 18-24-year-olds in Lindale, TX. 2001-2003 justin served in Human Resources as Director of Recruiting for a large non-profit organization in Lindale, TX with 1,500 full-time and 1,500 short-term volunteer staff.
justin was part of the steering committee for New England's first-ever Transgender Pride March and Rally in June 2008, which was attended by over a thousand people in Northampton, Massachusetts.
justin has served on the boards of SURJ Crawford County, MyMeadville, Willinet public access TV station in Williamstown, MA., Consortium of Higher Education Lesbian Gay Bisexual Transgender Resource Professionals, Berkshire Stonewall Community 
Coalition, and Bennington Pride.
After a gap-decade between high-school and college, justin studied anarchy, graffiti, and management of information systems at Marlboro College, finally, receiving his B.S. in 2008.  You can hear about his non-traditional education here in his graduation speech video.
In 2015 justin finished his MS in Management of Mission-Driven Organizations, with a focus on non-profit organizing at Marlboro Graduate School.
Photos: