ho·lis·tic – adjective \hō-ˈlis-tik\

Characterized by comprehension of the parts of something as intimately interconnected and explicable only by reference to the whole.
I have been a life coach, primarily working with 15-24 year olds, since 1999. I believe that everyone needs someone to bounce ideas off of and part of thriving is working with others to discover your full potential. Looking at life from a holistic approach we can discover new areas for growth and change to blossom into our true selves.
I currently work with young adults in the areas of leadership development, academic advising, career development, and identity development and exploration in a goal-oriented mindfulness based environment. That is all coach speak to say, I provide a supportive environment for you to talk through your shit to discover what you want to do with your life.
I work from a mindfulness framework that includes secular buddhist based meditation.
Who is life coaching for?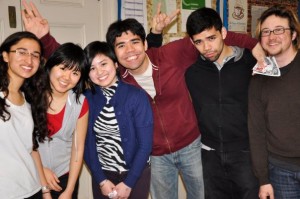 People work with me because they want someone to actively work with them to come alongside and develop a plan for portions of their lives.
Debating about coming-out of the closetOften people want to work with me about life transitioning, that might include, coming out, starting a new phase in life such as starting or finishing school, starting a new job, taking time off of school or work, dealing with family and friends about personal decisions, or how to support others working through their lives.
Trying to decide what to do with your life

What college to go to?
Should you go to college?
Should you take time off from school?
What to do after or instead of college?

If you are stressed or overwhelmed
Deciding to medically transition or working through the initial stages of medical and/or social gender change
Want to break through patterns of self-doubt
Desire mindfulness in your daily life
You are seeking clarity
You want to make a difference in the world
 Coaching Programs:
We jump start your coaching with a FREE 30 minute get-to-know-you session (I do ask that you fill out a questionnaire before this session to help you think through how we might work together). This meeting can be held in person or by phone, depending on proximity and preference. After that we have 2 phone meetings per month, each 1 hour in length. Most of my clients find this package totally supports their coaching needs.
Just like when you hire a personal trainer at the gym, part of what makes life coaching work is the knowledge that someone will check in with you about your progress on your personal goals. You set the goals, I cheer you on and provide feedback and a supportive thinking environment. Sometimes I might recommend readings or self-assessments that might assist your exploration. Many people find that they can take bigger actions, set bigger goals and think bigger when they work with a professional coach.
I am not a therapist, nor do I play one on TV. There are some issues that are best worked on in a therapy setting. If something comes up in our work that is beyond the scope of life coaching I will advise you to seek assistance from a trained therapist. I can help you find someone who is a specialist to meet your needs.