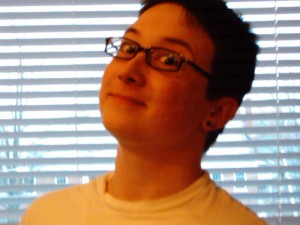 Referred to as a "master of coming out" justin has completed a hat-trick, coming out as a lesbian, as a trans man, and as bisexual.  justin's coming out workshop focuses on self-care and understanding.
In 2004 justin came out to his extremely conservative evangelical christian family as a lesbian and ran off to Massachusetts to get married.  In 2006 he came out as a trans man on the job at a fly fishing/hunting company and then in 2009, to the dismay of some of his lesbian and gay co-workers who were invested in their little identity boxes, as a bisexual after his divorce.
In this workshop justin discusses tools and ideas to make coming out a doable process.  He addresses that you are never done coming out and how identity labels are often more restricting than the closet doors they are meant to open.
The Moment I Knew, for Huffington Post:

My "I'm from Driftwood" story: